Saints and Holy People
Find out about their lives and how they changed the world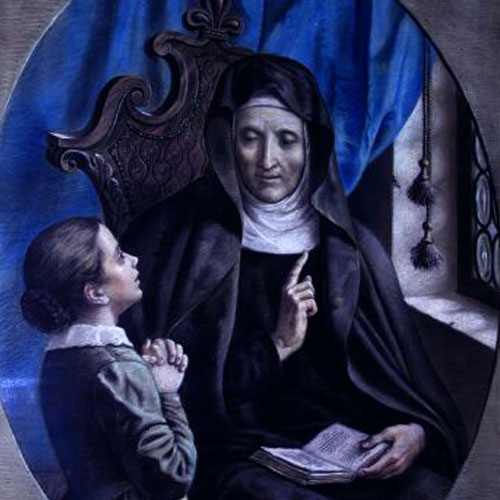 Saint Angela Merici (1470–1540)
Patron saint of disabled people, sick people, and those grieving the loss of parents
Feast day: January 27
---
As a young woman, Saint Angela Merici felt called to religious and became a member of the Third Order of Saint Francis. In the order, she lived a very simple life, owning nothing. It greatly troubled her how uneducated poor children were. She began giving lessons to the poor girls in her neighborhood, and others soon joined her in her ministry.
Angela established the first teaching order of women in the Church, named after Saint Ursula and called the Ursulines. (The legend of Saint Ursula recounts her martyrdom by the Huns, along with 11,000 virgins, in Cologne, Germany. This legend is considered highly questionable, and it may be that at one point, a young girl who was eleven years old was martyred there, and the scribe passing on the story mistakenly wrote this as eleven thousand! However, Saint Ursula became a symbol of "the perfect young girl" and so was chosen as patron of Saint Angela Merici's ministry.)  The Order of Saint Ursula was created with the goal of more prominently bringing Christianity into family life, beginning with a good Christian education for girls who would one day become wives and mothers.
Saint Angela Merici was canonized in 1807.
(Image by Benoit Lhoest, CC BY-SA 3.0, via Wikimedia Commons)