Saints and Holy People
Find out about their lives and how they changed the world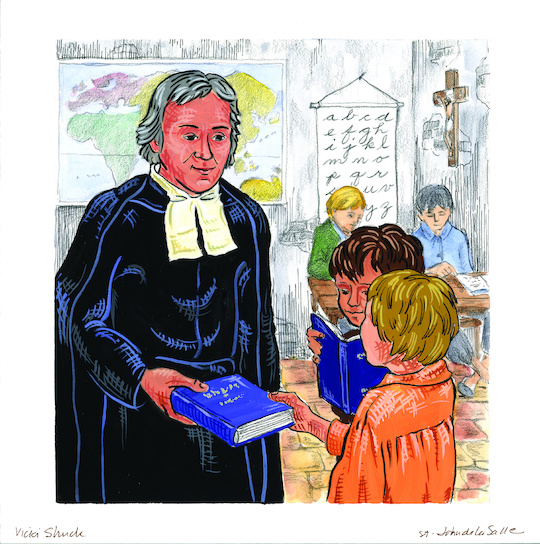 Saint John Baptist de La Salle (1651–1719)
Patron saint of teachers
Feast day: April 7
---
Saint John Baptist de La Salle was born to a wealthy family in northern France at a time when education was reserved for the rich. He was ordained a priest in 1678 and got involved in teaching almost by chance.
He was uncomfortable around poor people, but he came to see that providing a high-quality education for poor children was his mission from God. At first, he just recruited teachers for poor children and helped to train them. Later he formed a community of teachers, the Brothers of the Christian Schools (also known as Christian Brothers) and gave away his wealth to live with them.
Saint John Baptist de La Salle integrated prayer and the Gospels into all aspects of school life and encouraged his students to live in God's presence. Every half-hour a bell would ring, and someone would announce, "Let us remember that we are in the holy presence of God." He taught his followers to look for God's purpose in their lives and to see every event through the eyes of faith. He saw teaching and every act of service as a way to pray.
As Saint John Baptist de La Salle experimented with effective techniques, he introduced methods like classroom teaching and individual reports about students' progress that are considered common practice today. He was canonized in 1900. (From The Catholic Faith Handbook for Youth, Third Edition [Saint Mary's Press])
(Image © Vicki Shuck/Saint Mary's Press)