Saints and Holy People
Find out about their lives and how they changed the world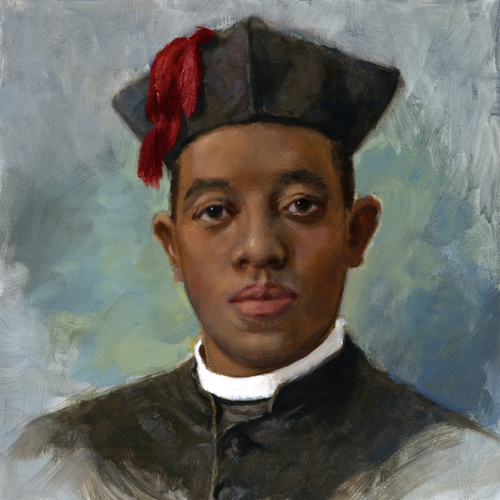 Venerable Augustus Tolton (1854–1897)
---
Venerable Augustus Tolton was born into slavery in 1854 in Missouri. After his father died while serving in the Union Army during the Civil War, Tolton escaped from slavery with his mother and three siblings. In Quincy, Illinois, Augustus met an Irish Catholic priest, Fr. Peter McGirr, who invited him to study at St. Lawrence Catholic School. Later he was admitted to the local Franciscan college and studied with Franciscan priests, who recognized that Augustus had a vocation to the priesthood. However, when Augustus was rejected by every American Catholic seminary to which he applied, Father McGirr encouraged Augustus to study in Rome, where he was ordained in 1886 at the age of 31.
His first mission was in his hometown of Quincy, Illinois. He attempted to organize an integrated parish there but his efforts were strongly opposed. He was then reassigned to Chicago, where he founded St. Monica's Catholic Church. With eloquent sermons and a beautiful singing voice, he won the respect and love of his parishioners. Augustus ministered at this parish until his death in 1897.
In 2010, the Archdiocese of Chicago officially opened the process to seek canonization for Augustus Tolton. He now bears the title Venerable. The first Black priest could very well become the first Black saint.
(Image © Anthony VanArsdale / Saint Mary's Press)